James Rizzi exhibition at LV1871 insurance until July 15th.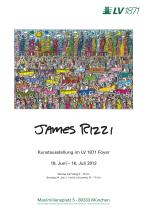 The Munich Insurance Company LV 1871 offers an audience for cultural interest public exhibitions in the heart of Munich. Art exhibitions with art pieces of prestigious artists and newcomers.
The exhibition of James Rizzi at the Maximiliansplatz 5 ends on Monday 16.07. Visit the unique exhibition in the fantastic location. Opening hours are from monday until friday from 9 a.m. until 7 p.m. On weekend the exhibition is closed.
After James Rizzi died LV 1871 presents for the first time paintings of the artist in Munich. The show presents 77 art pieces which are exhibited in collections and galleries worldwide.