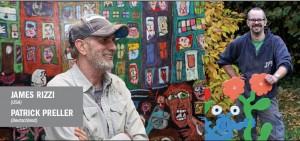 Colorful Pop Art Buildings and Monster Objects in the Arthus Galerie
The gallery ARTHUS presents for the first time the international Pop-ART artist James Rizzi from New York in cooperation with the German artist Patrick Preller. For the opening Dr. Friedhelm Häring, Museumsdirektor a.D., Friedberg will present the wonderful art works.
On Saturday, 15.11.2014, at 5p.m. all guests are welcome at ARTHUS Galerie ZELL.