James Rizzi
– the legendary pop art artist from New York. Born 1950 in Brooklyn. He studied arts at the university of Florida, Gainsville until 1974. Directly after his studies he had the chance to present his art work in the Brooklyn Museum. In December 2011 he passed away in his appartment in SoHo.
During the years he developed a distint characteristic style. He created step by step his own colourful world, full of happy pictures, which spray a vision of happy lifetime and joy. Rizzi lived and worked until with death in december 26th in his atelier in a New York loft in the district SoHo.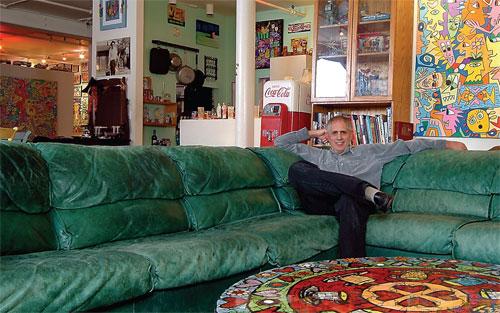 James Rizzi was born in the middle of last century – and although some time has passed since then, he has preserved himself a wonderful, child like spontaneity. James Rizzi was born in the center of the art world, New York City – and in spite of the dogma that you have to leave home to prove that you've made it, James Rizzi has remained true to his place of birth. Sometimes we are lucky and home coincides with the place we would have picked anyway. For Rizzi this is surely the case. And after all, New York City seems to be a never ending source of inspiration.
Indeed, James Rizzi's pictures almost burst with New York City imagery: cars and cabbies, hot dog booths and the Hudson, the Guggenheim Museum and Central Park, the Brooklyn Bridge and Broadway. We see illuminated advertising, streets full of houses, street signs, fi re hydrants, and dustbins. Above all, however, we see people, people and even more people. After all, it is the people you meet in the streets who give New York its particular flavor. "Much of my work is about New York City, but above all it is about the people, about how they live. New York is a multicultural society where people with all kinds of cultural backgrounds, religions and languages are living together in harmony. In my work I want to portray the positive side of New York, I want to show how privileged we are to have such a rich and diverse society and that living together in such a community can be a lot of fun." Rizzi's pictures show New York as a social example the world might wish to follow. And they suggest a recipe of how to get along and bridge the potential devide between cultures, languages, and systems of upbringing: Just look at life with innocent eyes – they are the eyes of the other, too. Look at what is beautiful in the world and don't forget that there is a lingua communa to all of us: a smile.
Indeed, we cannot help smiling when Rizzi's pictures allow us to spot the happy sides of everyday life. We smile about Rizzi's ease of portraying happiness – and it is easy to forget that, in fact, he has chosen the most precious object of all, the very aim we are striving for during all our life. James Rizzi's style keeps a delicate balance of nonchalance and expertise. His pictures are bold, colorful, and bursting with life – and yet many are paper-constructions born by incredibly fine lines that make them rash and refl ected, fragile and strong at the same time. Their fragility lies in their source of emergence – a tiny black line, curling in the most minimal radius, hardly printable but by a welltrained specialist, hardly sliceable but by skilled hands with years of training and a cautious.
As much as Rizzi's pictures are infl uenced by the works of children, as much do they breathe art history: Dubuffet, Hundertwasser, and Picasso. We find traces, explicit ones in his earliest work, subtle allusions in his poignant and precise latest pieces. James Rizzi has fused diverse inspirational sources into what others are seeking and yet fi nd so hard to achieve: a style.
Urban-naïve; these are predicates James Rizzi's art has been endowed with. And it is true: James Rizzi's artwork dares to show how inspiring children's enthusiasm for imaginative seeing has been to him. The favor is returned by Rizzi who wants anyone, even children, yet unspoilt by the conventions of the aesthetic attitude, to be able to relate to his artwork. Rizzi is a rebel against the art world as the 'other'. For him, art is nowhere 'beyond', it needs no theory-loaded eye, just an open mind and interest. In trying to be close to the viewer, close to his heart much more than to his brain, Rizzi is cautious to avoid intellectualist pretentions. Seeing becomes as easy as it always used to be. We cannot fail. We cannot break a norm, we cannot see Rizzi's pictures wrongly. We cannot be better or more apt to look at them than the little child next to us. We are on par with whoever can see. And, somehow, we all travel back in time, into a world where life is once again easy-going, full of fun, pleasure, sunny holidays and endless scoops of ice-cream. Rizzi's artwork is refreshing in more than one way: It exorcises the greyish shades from the world and allows us to be, once again, who we were before being absorbed by the daily grind. It brings us back the lightness of being.
James Rizzi may seem like the natural born artist but it took him a while to realize that. In fact, we might even say that art found him as much as he found art. Strangely enough it did not happen in the art metropolis, New York City, but in Florida, where Rizzi moved for his studies. He was a business major, wanted to do something serious, something to make a living with. He moved to a house which was nice but not too fancy and which had empty walls that he did not like too much. Eventually, he grabbed a brush and started to experiment with colors and motives. Without intending it, without even anticipating it subtly, this was the start of a career as one of the leading contemporary pop artists.
Today, James Rizzi is looking back on a career of more than thirty copious years that have given birth to artwork we fi nd in galleries, homes and collections around the globe. Three-dimensional constructions, acrylic canvases, magnetic artwork, houses, air planes, you name it. Rizzi is extremely productive, eager to seek new challenges, happy to be approached by people with new and enticing ideas. "I get up very early in the morning and start working when everybody else is still asleep." This is Rizzi's explanation for those who wonder when all those prints, constructions and canvases get done. James Rizzi's workaholism is fed on passion.
"The past is history, tomorrow is a mystery, today is a gift." This is Rizzi's virtue ethics in a nut shell. Any ideas or plans what this mystery may look like? James Rizzi wishes to devote more and more time to painting. Various stunning acrylic canvases have emerged in the last years and Rizzi is enjoying working in bigger dimensions. 'I am reinventing myself as an artist and I feel that I am getting more and more confi dent." So, James Rizzi, the painter? Certainly yes, but not exclusively so. James Rizzi is reluctant to being too readily subsumed under a single concept; he wants to remain open, to be surprised by what the tides of destiny will wash ashore. "Every day in an artist's life is an adventure.' You just never know. A canvas may be reluctant and force you to develop an entirely new strategy; Juan Antonio Samaranch might call you to ask whether you wish to be the next offi cial Olympic Artist; a sad white wall might stare at you, let you take your brush and change your life forever.